Editor's note: There are a large number of movies, TV series and variety shows broadcast every week. How to choose, you might as well take a look at the surging recommendations.
【Movie】
According to the data of the Lighthouse Professional Edition, on November 11, the top three single-day box office films were " Anti-Black Action ", "The Way Back " and "Call Me Mr. Zheng". Among them, "Anti-Black Action" and "Call Me Mr. Zheng" are new films released on the same day. In addition to these two films, today's films include "Growing Up With You in the World", "We Are Young" and "Hello" , Mount Everest, etc.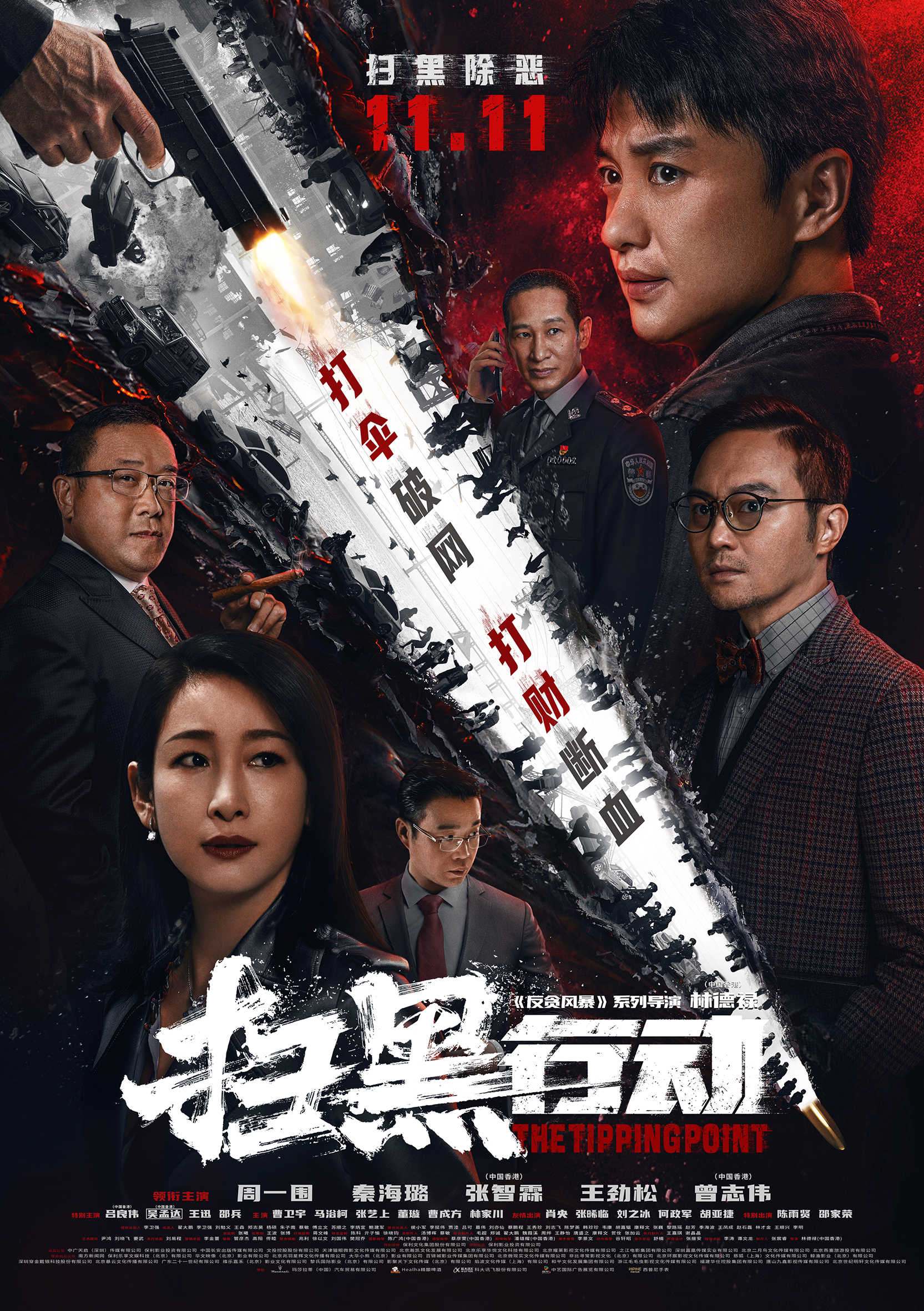 "Anti-Black Action" poster
Next, there will be a number of foreign films to be released in November, "Cat and Dog Martial Arts" (12th), " Detective Conan: The Bride of Halloween " (18th), "Fall" (18th), "Ninja Turtles: Rise" (19th) "Kill That Magician" (19th) " Girl in the Swamp " (25th).
→ "The Girl in the Swamp", "Detective Conan" and many other outside films are scheduled for November
2022 China Golden Rooster and Hundred Flowers Film Festival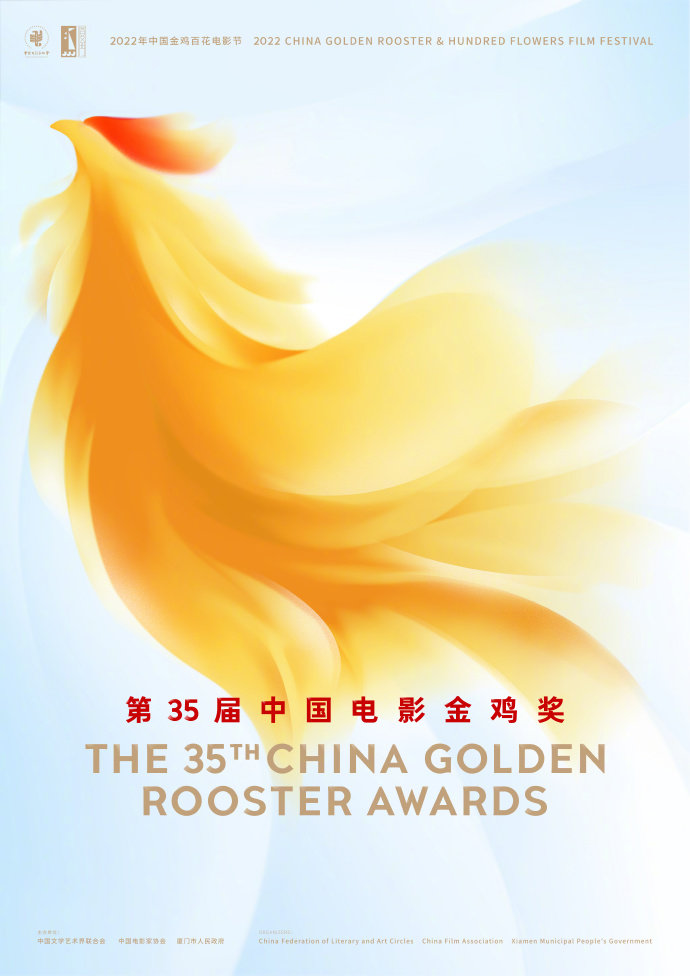 Poster of the 35th Chinese Film Golden Rooster Awards
The 35th China Film Golden Rooster Awards Red Carpet and Awards Ceremony will be held on November 12. The host of the ceremony will be Lan Yu, the host of the film channel, and filmmakers Deng Chao, Huang Bo and Zhang Xiaofei. At 19:45 that night, the CCTV-6 movie channel and #2022Direct Hits the Golden Rooster Award# Rong Media live broadcast on the entire network.
→ The 35th China Film Golden Rooster Awards announced nominations, and "Changjin Lake" was shortlisted for 8 nominations
→ "Produced in Shanghai" shines at the Golden Rooster Awards, Shanghai filmmakers compete for a number of "Best"
"Plants and Trees"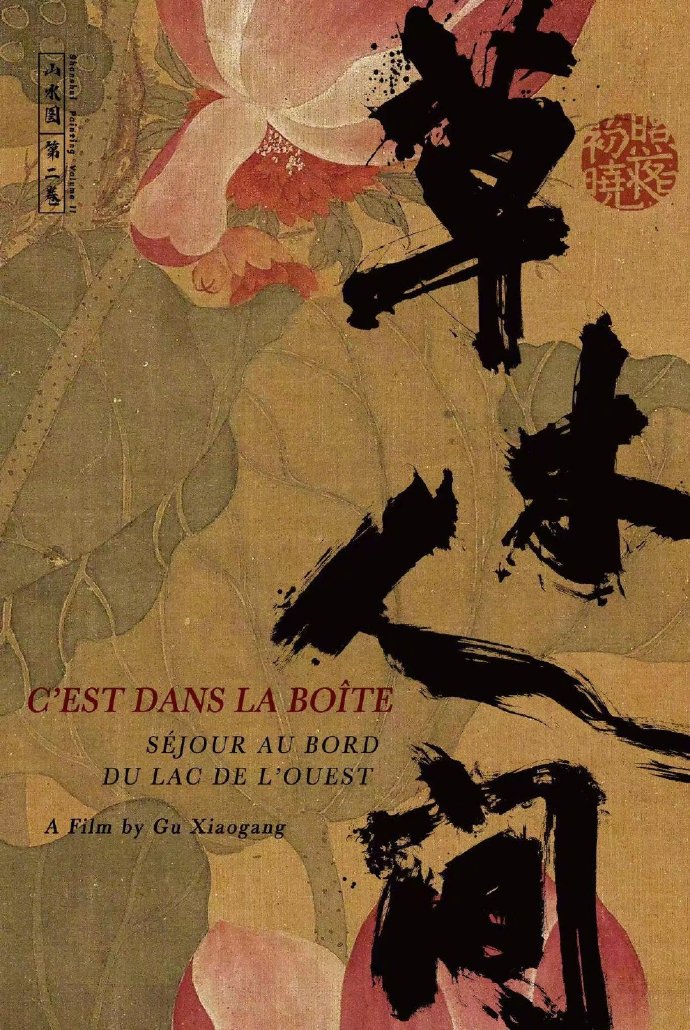 "The World of Grass and Trees" poster
On November 8, a new poster for "The World of Grass and Trees", directed by Gu Xiaogang, with Chen Jianbin as the art director, and starring Wu Lei and Jiang Qinqin, was released. The film was officially announced on November 6th.
Director Gu Xiaogang's last work "Plumbing in the Spring River" was selected as one of the top ten films of 2020 by the French "Cinebook". As the second work of its "Landscape Map" series, the story will unfold a "picture scroll" in the West Lake Chashan. Wu Lei and Jiang Qinqin play a pair of mother and son in the film. The two will once again interpret the legend of "Mulian saves the mother" and stage a story about redemption.
Other recommendations:
Interview|Actor Yu Hui: "Deng Xiaoping Trail" inspires us to believe in the future
Quentin promotes new book to talk about life in movies, bluntly hopes that superhero blockbuster boom will subside
Wu Tianming's screenwriting training class starts, tutor Xu Haofeng talks about new books and creation
The new version of "All Quiet on the Western Front" has become a kind of reincarnation
【TV drama】
Recently, many TV dramas that have received much attention have been launched or finished.
The urban drama "Good Things Come in Pairs" starring Zhang Xiaofei and Huang Xiaoming was launched on November 3.
The costume fantasy drama "Xing with the Phoenix" starring Zhao Liying and Lin Gengxin was completed on November 4. The drama was adapted from the novel of the same name by Jiu Lu Feixiang, and "Canglan Jue" is also the author's novel.
The female growth drama "Be Your Own Light" starring Liu Tao, Qin Hailu, Liu Yuning, and Chai Biyun was completed on November 4.
The "Fox Fairy Little Matchmaker Moon Red" starring Yang Mi and Gong Jun was completed on November 7th. The play was adapted from the head IP of Guoman, and the IP exploded after it was adapted into an animation in 2015.
The TV series "Changfengdu" starring Bai Jingting and Song Yi was completed on November 7.
The thrilling romance drama "Worry Free" starring Ren Jialun and Song Zuer was completed on November 7.
"The World's Long River"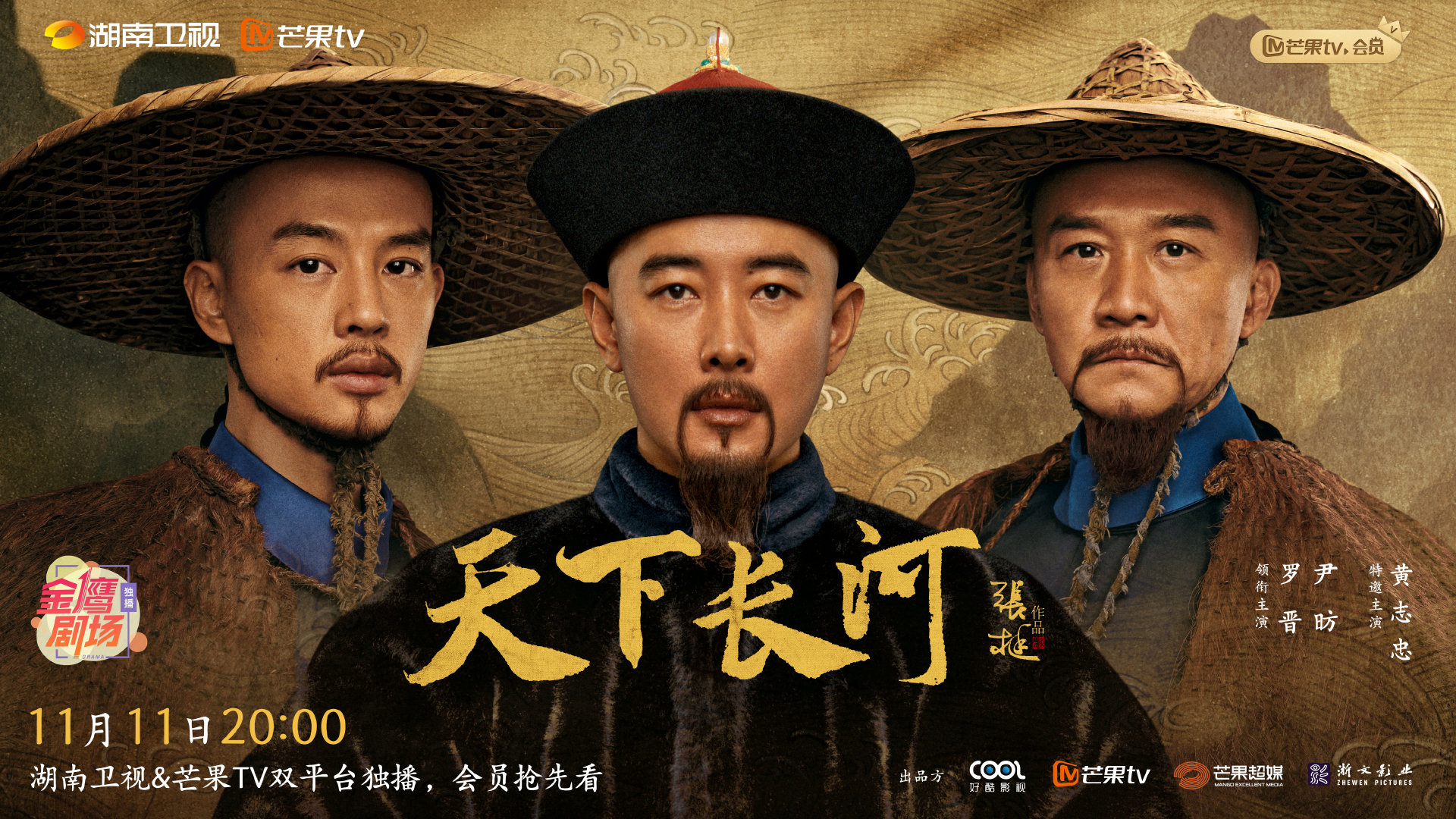 "The World's Long River" poster
On November 11, the costume historical drama "The World's Long River" was broadcast. The play tells that Emperor Kangxi (played by Luo Jin), in order to cure the Yellow River floods, promoted Chen Huang (played by Yin Fang) and Jin Fu (played by Huang Zhizhong) two people who were able to control the floods in an eclectic manner, leaving behind the great achievements that will be praised by later generations. True historical story.
Director and screenwriter Zhang Ting mentioned that he consulted experts in Qing history and the Yellow River Water Conservancy Commission of the Ministry of Water Resources, and referenced a large number of engineering drawings in the Qing Dynasty to restore the water control project of the year. In domestic film and television, the legendary Kangxi Emperor has been repeatedly performed. Every age group of Kangxi has a classic version recognized by the audience. Director Zhang Ting revealed that Luo Jin had prepared for a long time to play Kangxi this time. He portrays a young emperor in his 20s who is full of style and strength.
For audiences who like historical dramas, this drama can be watched.
"The Great Game"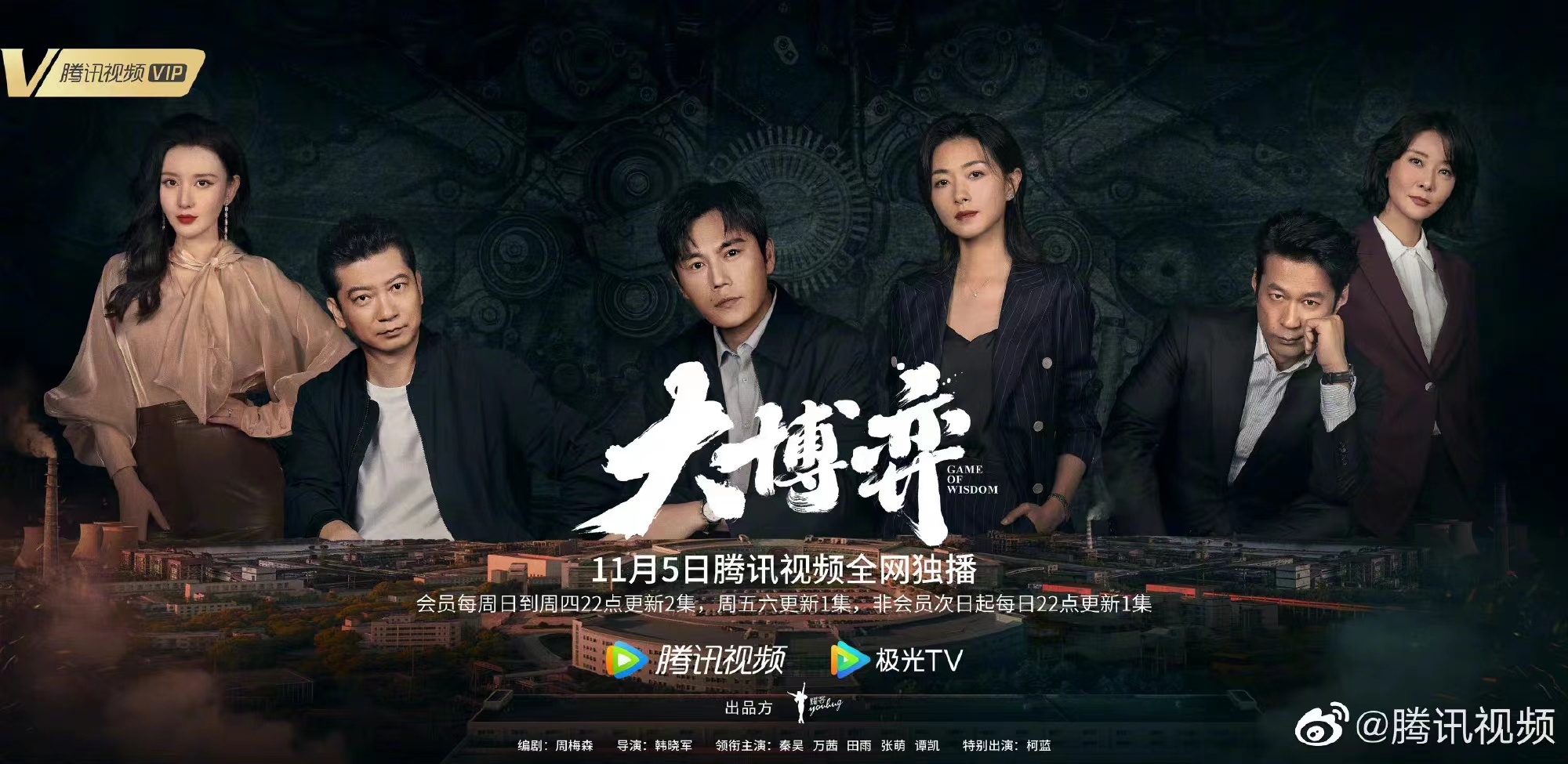 The Great Game poster
The publicity is tepid, but this is a drama that the author has been chasing after staring at the calendar recently. "The Great Game" tells the story of the efforts made by a generation of young people for the development of China's manufacturing industry by taking the dying North Machinery Factory as an incision. Although it sounds like a serious and grand subject, it is easy and fun to follow. Zhou Meisen's screenwriting ability is really worth entrusting.
Sun Heping (played by Qin Hao) was driven to the shelves and selected as the new factory manager of Beiji. At the moment, he is facing a major problem with Beiji. There is no money, no orders, no productivity, and the factory still owes wages. In order to save this century-old factory, Sun Heping acted as fiercely as a tiger, and found two seniors Liu Bing (Tian Yu) and Yang Liu (Tan Kai), who were once known as Han Da's three heroes with him. Way to make money.
Qin Hao is a native of the Northeast, and he is separated from the literary film. He fully released the sense of humor of the Northeast, and played Sun Heping's mischief in a very pleasing manner; Tian Yu, needless to say, played a romantic boss full of money. Coupled with Tan Kai's upright and capable boss of a state-owned group, the three middle-aged men gag each other and help each other, creating a three-pronged story in the manufacturing industry. This show is perfect for the whole family to catch up on the sofa together!
"Thank You Doctor"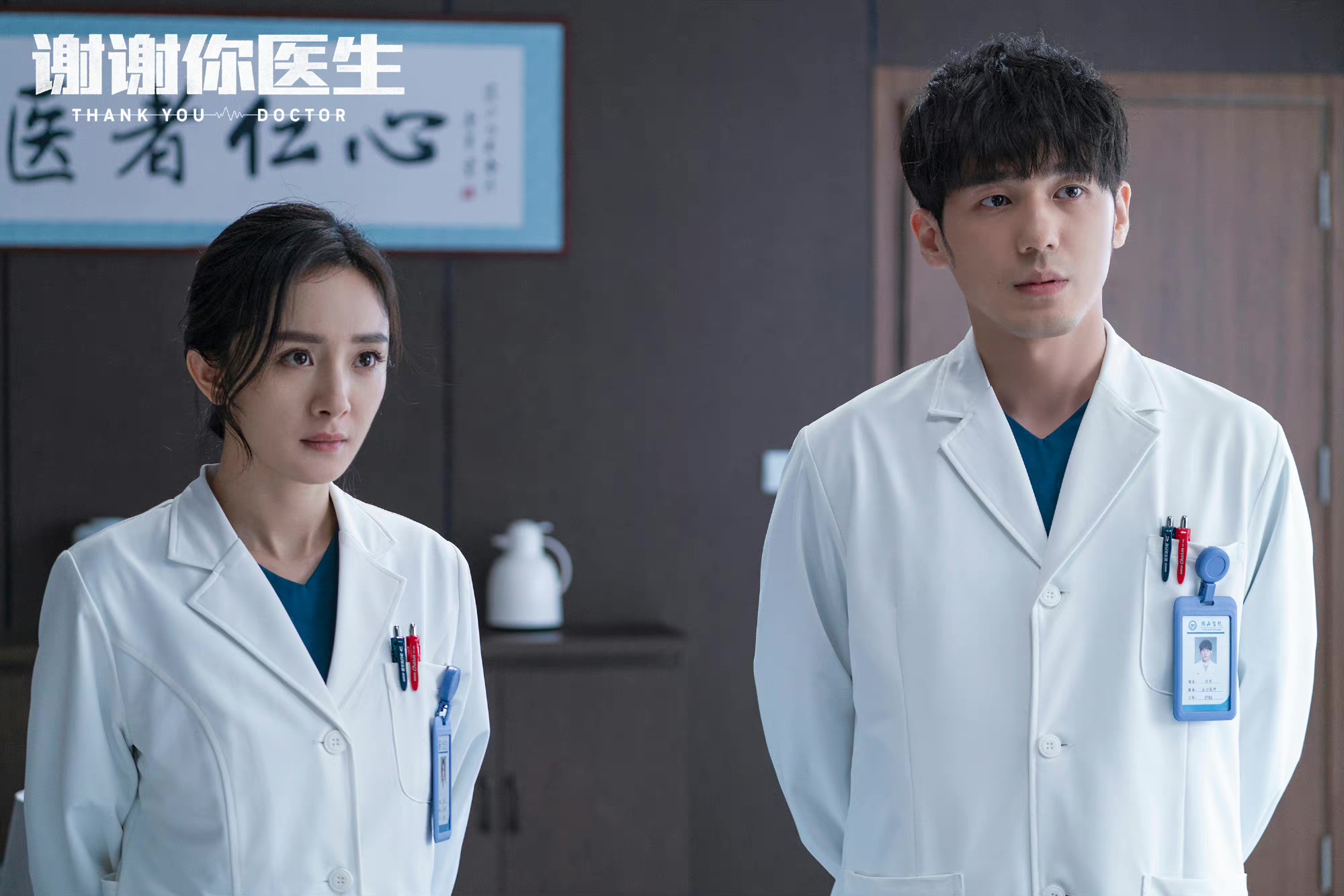 "Thank You Doctor" stills
The advantage of unit dramas is the flexibility of viewing. "Thank You Doctor" basically has two or three episodes in one unit, telling the stories of different patients in the emergency department. You can use the time to eat and take a break to read a sad story of life and death. This play also has a main line, the private life and emotional scenes of the male protagonist Bai Zhu and the female protagonist Xiao Yan, but so far, the proportion of emotional scenes between the two is very small, and it is not a big problem if you don't watch it.
→ "Thank You Doctor": How are the new dramas of Yang Mi and Bai Yu?
"Qingqing Daily"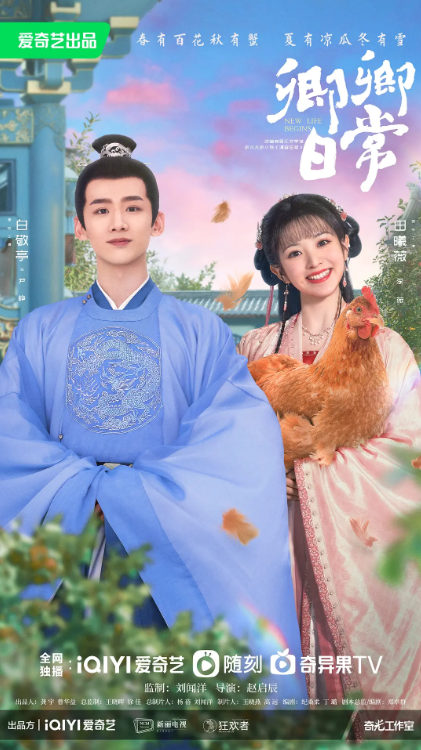 "Qingqing Daily" poster
Don't be too entangled in logic and details, this is a light comedy "electronic mustard" that can satisfy the face value party.
Originally titled "Daily Life in Qingchuan", the play was created by the team of "The Son-in-law". It tells the story of Yin Zheng (played by Bai Jingting), the six young masters of Xinchuan who keep a low profile, and Li Wei (played by Tian Xiwei), who just wants to work hard to lose the election and live comfortably in his hometown. , and together they started a married life that was full of situations but complemented each other.
I have watched a lot of Mary Sue's ancient puppet dramas. Although "Qingqing Daily" seems naive and cheap in terms of service, the lines are modern and colloquial, and the logic can't stand up to careful scrutiny. Everything is to force the two. The way people meet and fall in love... However, the heroine is really a lovable character, cute, sincere, greedy, and without scheming, plus Tian Xiwei's appearance as a really sweet girl, she can't get bored even knowing that she has the aura of the protagonist. The six young masters who were sick and naturally cold-faced in the early stage were always angry with the innocent and lovely Li Wei, which was really eye-catching and funny.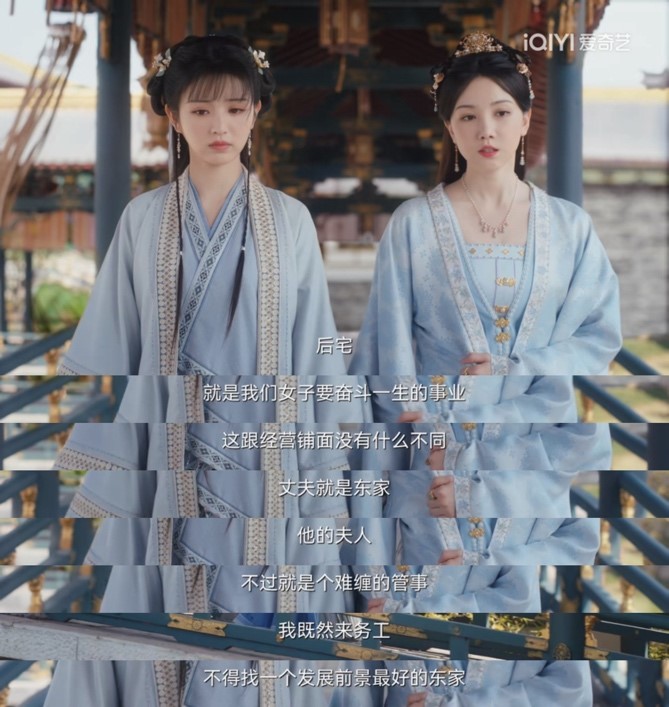 Naked comparisons of marriage to women working in the workplace
What's interesting is that this drama compares marriage nakedly to women working in the workplace. The husband is the "owner", and there is no so-called backyard struggle and favor. Even Hao Jia (played by Chen Xiaoyun), who is chosen to be a concubine, also clearly expresses that this is the case. The road is just to "promote" faster, there is no love at all; the three young masters married 12 women, not only there is no house fight, but everyone gets along well and complains about the "owner" together. Although I know that this is to please the female audience, what's wrong with smiling without thinking about the drama?
"Light Me Up, Warm You"
Li Wei's character design seems to be tailor-made for Arthur. Chen Feiyu is already a high-voted candidate for "November Husband", and "Arthur is stupid, but beautiful" is already all over the screen.
Compared with the controversy of the original work, the adaptation of the series is worth talking about. The script has eliminated many exaggerated speeches and behaviors in the original work. Li Wei has lost his sharpness and wildness. The original party will feel a pity, but such an adaptation guarantees. The broadcast of the episode did not weaken the sense of CP between the two, which was considered a success to a certain extent.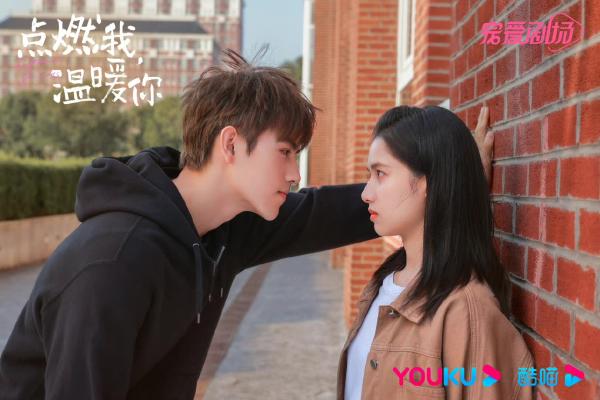 "Ignite Me, Warm You" stills
Li Yu and Zhu Yun's CP sense is quite wonderful, Zhu Yun is full of courage, but his personality is indeed ordinary, Li Yu is not too talkative, the emotional tension between the two is different from idol dramas with contrasting personalities, between the male and female protagonists There's nothing particularly attractive and weird, but I can't help but want to watch it one after another.
After watching several interviews of Arthur, he calmly accepted everyone's joke "Arthur, please sit down", and also liked that netizens said that his eyes were "clear and stupid", "It's good for people to be stupid sometimes". The author thinks that whether it is explosive or not, Chen Feiyu's mentality and self-cultivation are worthy of praise.
→ "Ignite Me, Warm You": Arthur, do you still have to tear up the calendar?
Other recommendations:
Japanese drama "Fraud Hunter": Should we use evil to defeat evil in dealing with liars?
【Variety】
"Talk Show 5"
The quarterfinals are released this week, and the competition is still quite fierce. At this stage, it is basically no longer a question of who is competing. The competition should be based on the audience's expectations. Often, the more unique players are, the audience's expectations will be full, so You can't judge a hero by winning or losing. This week, Carnivore won the 12th place with 134 votes, Meng Chuan won the 11th place with 146 votes, Doudou won the 10th place with 159 votes, Yang Li won the 9th place with 161 votes, and four people were eliminated.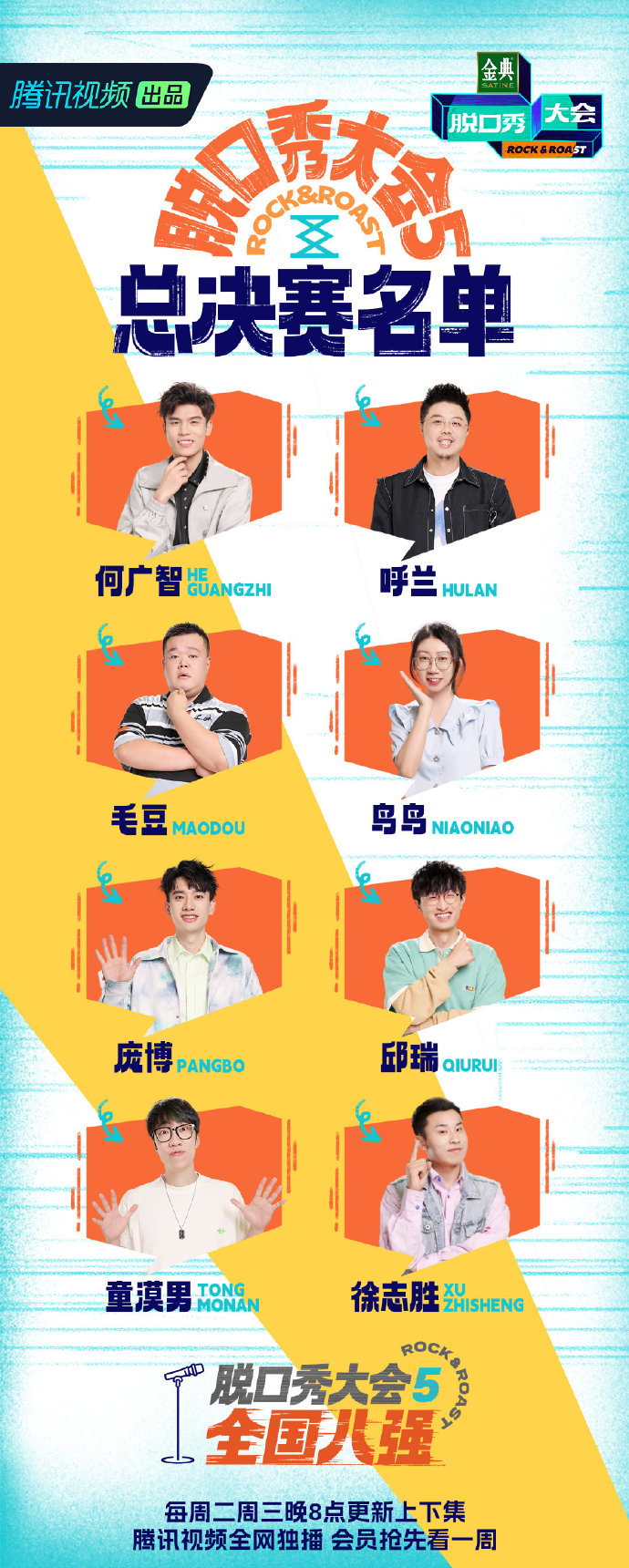 "Talk Show 5" Final Eight
The finalists were He Guangzhi, Hulan, Maodou, Bird Bird, Pang Bo, Qiu Rui, Tong Monan and Xu Zhisheng. Everyone is very strong. Although Edamame, as the only newcomer in the knockout round, did not tell a story about being a soldier that he was good at, he told a fantasy love story. There is suspense.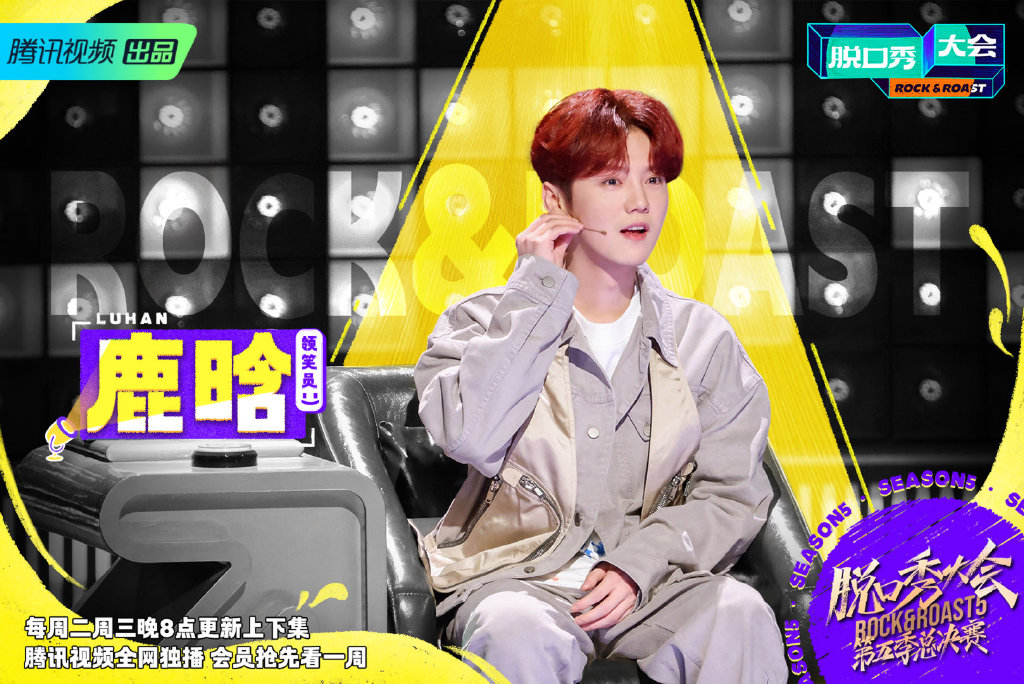 Really Luhan is here
The finals are about to start. On November 11, "Talk Show 5" released a poster, announcing that Lu Han would join the finals as the "laughter leader". The official Weibo post said: "Welcome to Luhan, the laugher of the finals! This time, there is a real Luhan! Various famous scenes will be launched soon." Netizens' predictions about who will be the king this season are still relatively high. Concentrate, "Qiu Rui, He Guangzhi, and Tong Monan are too strong this season, boldly predict that the champion will be among the three of them!"
I vote for Tong Mo Nan, how about you?
"Am I in your future"
"Am I in your future" is scheduled to be launched on Mango TV on November 13.
"Am I in your future" two posters
Returning to the social reality of contemporary young people, breaking the predicament of group social spiritual internal friction, focusing on emotional exchanges between individuals, customizing an exclusive social plan, and recording the whole process of their acquaintance and acquaintance.
Looking at the trailer, the state and performance of amateurs seem very natural and sweet. In fact, there is not so much personality analysis, and don't make too many labels. Just watching a small and fresh love is very healing.
"Band by the Sea"
From November 11th, "Band's Beach" will be launched on Mango TV every Friday at 12:00 noon.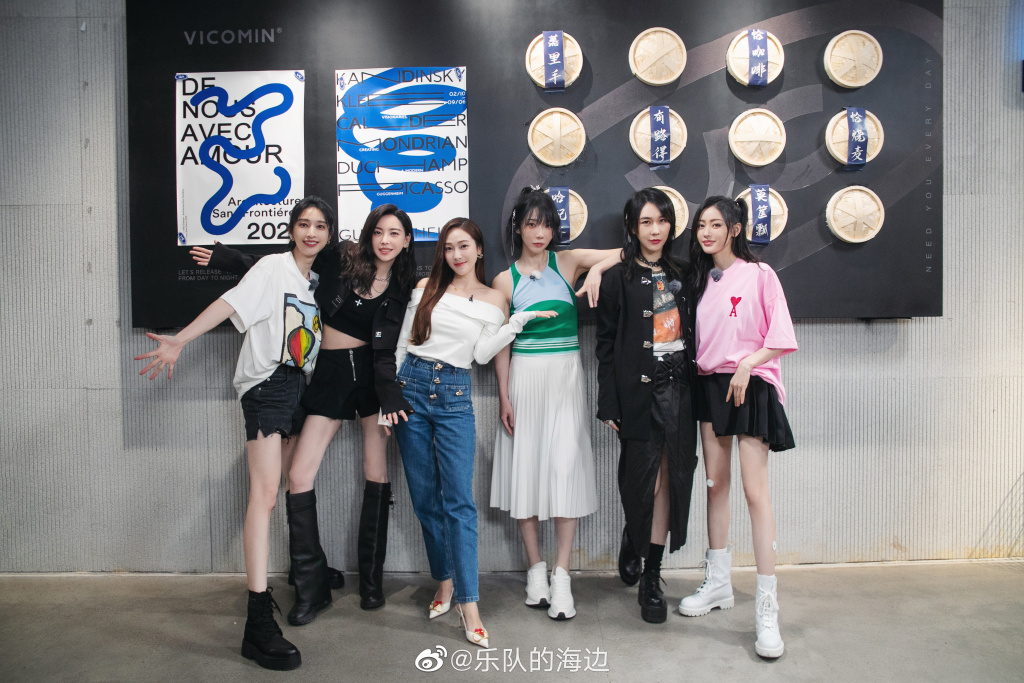 Group photo of the members of "Band's Seaside"
Zhang Li, Zhao Meng, Zheng Xiuyan, Yu Wenwen, Liu Lian, and Zhang Tianai gathered together happily and went to Tanmen Town, Qionghai City, Hainan Province. With the help of local fishermen, they joined hands to start a new journey of partnering to run a seaside music restaurant.
I wish my sisters a prosperous business and continuous good songs.
"Infinite Beyond Class"
On November 10, director Wu Tong posted on Weibo: ""#Infinite Beyond Class#" will start recording in more than ten days. This is one of the most difficult programs to do in a career. , the surprise may be higher, today the official announcement of 15 young actors, looking forward to their performance, thank you for your support, come on together!" Xue Kaiqi, Li Yitong, Shen Yue, Liu Yaowen, Zhou Keyu, Zhou Jieqiong, Xu Weizhou and others joined the show. Are you looking forward to it?
The second season of "Night in Da Wan Chai"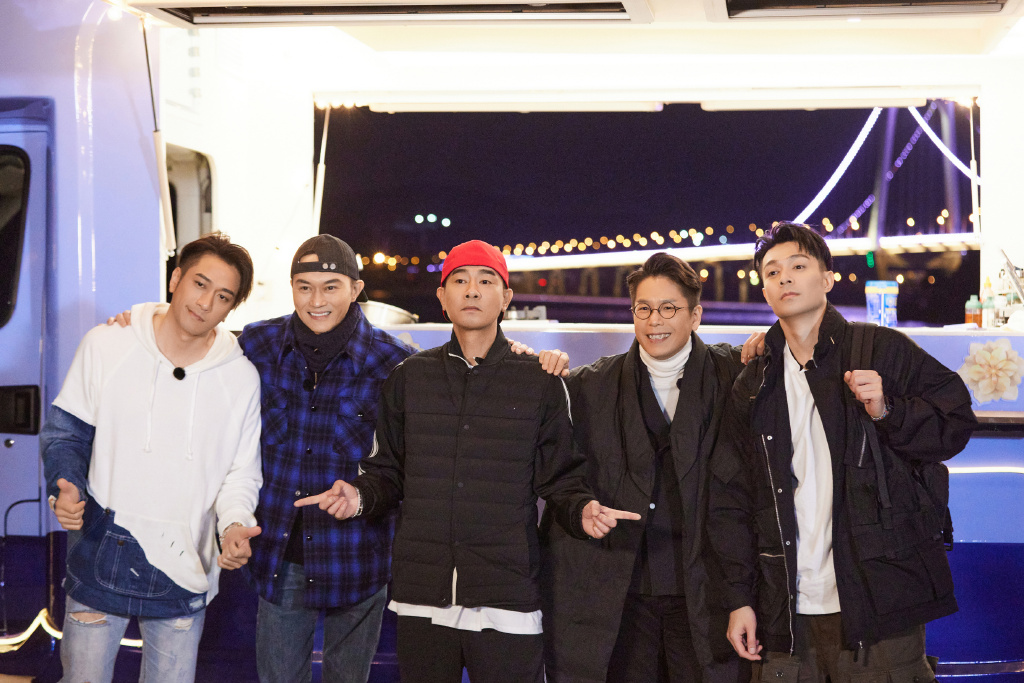 Group photo of the members of the second season of "Night in Great Wan Chai"
Brother Phi is over, and Brother Phi is not completely over, because the second season of "Night in Da Wan Chai" is also here.
If Brother Phi didn't watch enough, "Night in Da Wan Chai" will make up for you.
"Annual Comedy Contest 2"
This week, the program is double-shifted, and it is broadcast on Thursday and Friday for two consecutive nights. Currently entering the third stage of the "I love you" team cooperation competition.
Just judging from the reactions on Weibo, Douban and other websites, "Annual Comedy Contest 2" seems to have a trend of word-of-mouth collapse. One is that the audience was skeptical about the resurrection list for the first two stages, thinking that there were too many "connected households" stuffed into it, so that some actors appeared, and the "royal family" often floated on the barrage.
But what dissatisfied some audiences more is the competition system itself, the team cooperation competition, which makes many actors appear redundant in the sketches.
【Documentary】
"Super Equipment 2" Director's Notes: Let the audience understand the crystallization of the highest level of human wisdom
The fourth season of "Aerial Photography China" is here, let's see if there is your hometown?
【cartoon】
November animation list丨The Five Tigers in Xiangbei debut, "Slam Dunk" is coming back
"Crazy Zoo" has something new, and the spin-off drama will be launched on November 9