According to French media reports, the famous French film critic Michel Ciment passed away on November 13, local time, at the age of 85.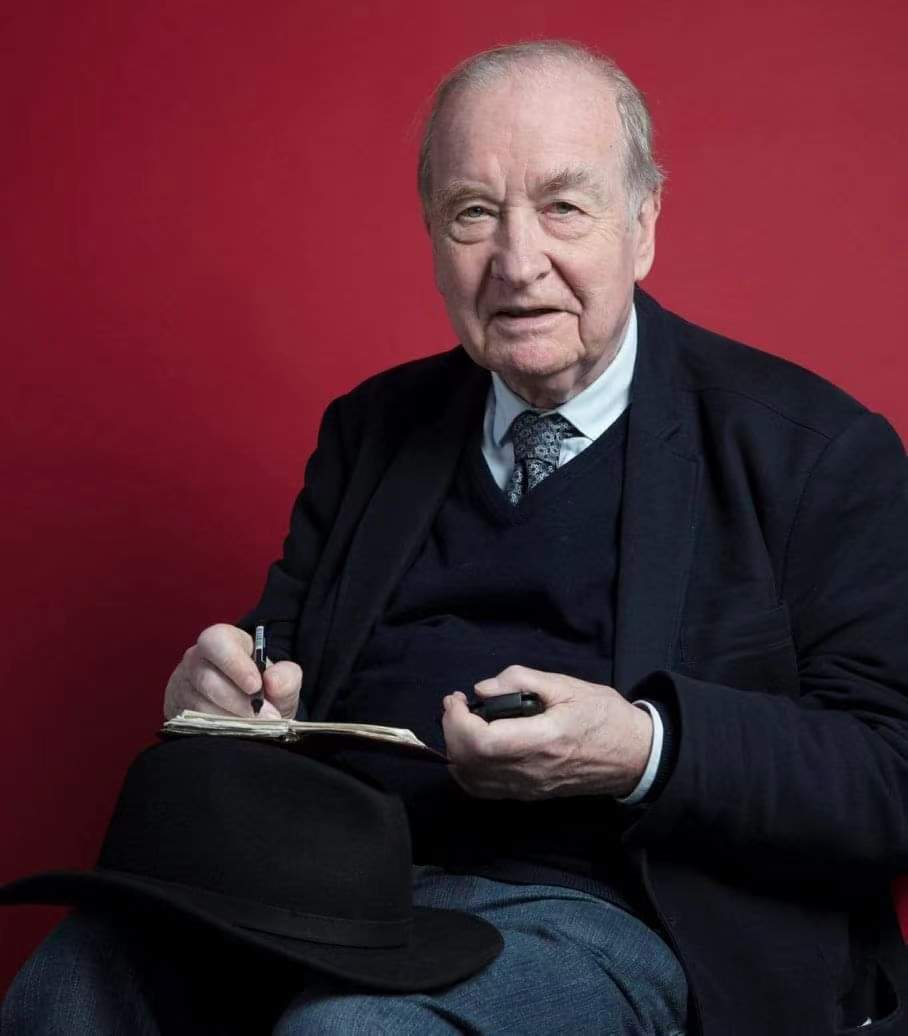 Michelle Simon
Michel Simon is a member of the editorial board of the French film magazine Positif and a reporter and producer for France Culture TV. The editorial department of "Main Film" wrote in the obituary: Michel Simon left us many priceless legacies: resonant film reviews, passionate editorials, and interviews with many great filmmakers of the 20th and 21st centuries... …but more importantly, he left a legacy of passion and exploration on every page that we carry forward month after month.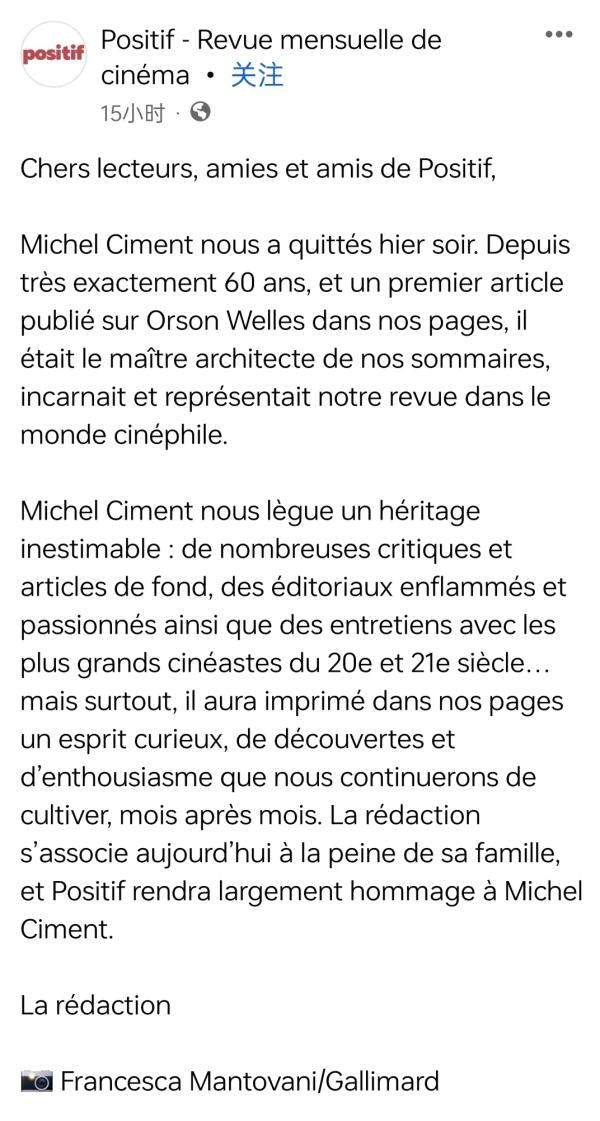 "Main Film" mourns Michelle Simon on social networking sites
Director Jia Zhangke also wrote on his Weibo: "My deepest condolences to Mr. Michel Simon, editor-in-chief of the French "Main Film" magazine, film critic and film historian. Thank you for every word you wrote for my film since 1998. interviews and film reviews."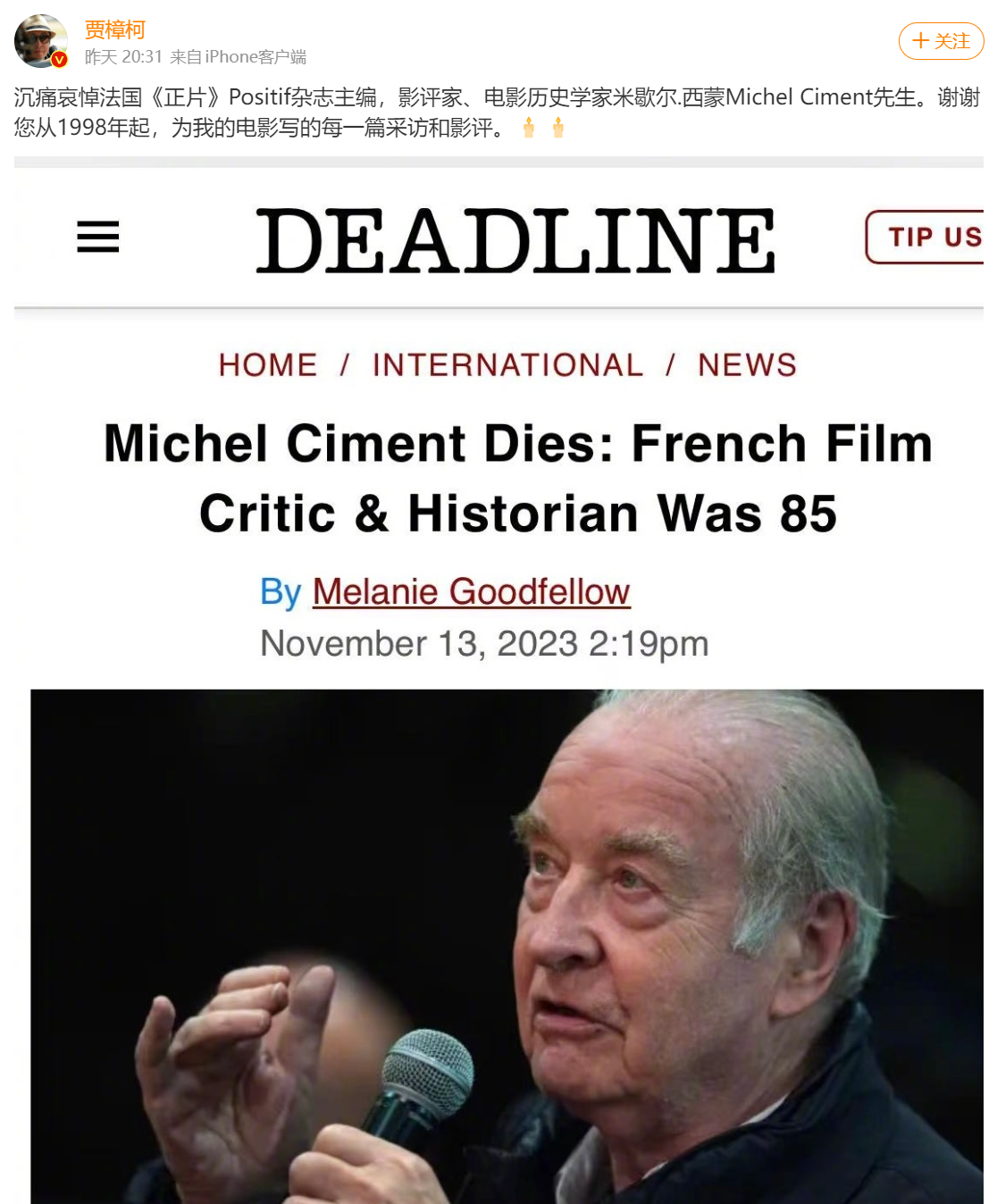 Director Jia Zhangke mourns Michel Simon on Weibo
Michel Simon is the author of more than 15 film monographs, including "Kubrick", "The Rossi Papers", "Kazan on Kazan", "The Losi Book", "Bluman" and "The Conquest of a New World" "The Author", "Hollywood Pass", "Salzberg", "From Photography to Film", etc.
He is also the co-author of the documentaries 60% of the Perfect Man: A Portrait of Billy Wilder, Ilya Kazan: The Outsider, One Voice: Mankowitz, and Predictive Chronicle of the Films of Francisco Rossi Screenwriter and interviewer. In addition, he has served as a judge in more than 20 film festivals, including Cannes, Berlin and Venice Film Festivals. He also served as a judge for the Golden Goblet Award at the 16th Shanghai International Film Festival in 2013.